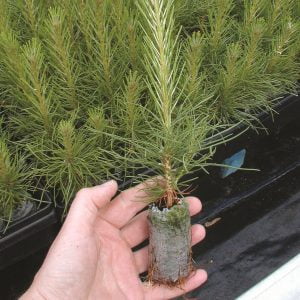 Jiffy® Forestry Pellets
---
Jiffy Forestry Pellets are the "original" Air Pruning System: a soft-walled, meshed seedling container that allows for natural lateral root development with minimal to no root deformation. Since the initiation of the Jiffy container, forestry pellets have been used around the world for all types of regeneration, with over 100 million pellets used annually. The container aids the nursery in producing a natural lateral root system so there is immediate lateral root egression after planting to anchor the seedling immediately and maximize field performance potential. Jiffy Forestry Pellets are pH-balanced for hardwoods and tree seedlings, and are not recommended for vegetables.
Jiffy Forestry Pellets utilize a sterile peat media which aids in the control of weeds and root disease in the greenhouse. The media in the pellet is 100% top-quality peat which Jiffy grades, screens, tests and analyzes on a consistent basis during manufacturing
Jiffy Pellets come in sheets that fit standard 10/20 nursery flats. It is imperative when ordering or using 10/20 flats that the bottom inside dimension is 9.84 x 20.1, otherwise the sheet of pellets may not fit in the tray.
Diameter, Height & Volume for each pellet is an approximation of the EXPANDED measurement.
Scroll Down for More