IP110 – 45 cavity 5″ deep Tray
---
Heavy weight plastic IPL Rigi-pots tray.
45 cavities per tray, 5″ deep
Contact us for quote
$

6.50
Out of Stock
Contact us for notifications about availability.
Scroll Down for More
Usage Description
---
IP110 – 45 cavity 5″ deep Tray usage
Used for growing citrus liner seedlings from seed for transplanting to larger pots. Also used for growing conifer seedlings from seed.
Specifications
---
| | |
| --- | --- |
| Cavities per tray | 45 |
| Diameter (in.) | 1.6 |
| Depth (in.) | 5 |
| Length (in.) | 14 |
| Width (in.) | 8.75 |
| Volume Cu. (in.) | 6.7 |
| Volume ml | 110 |
What You May Need
---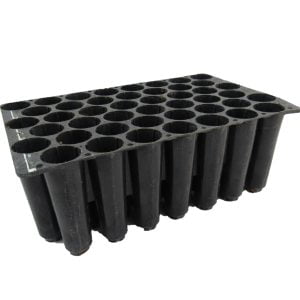 USED IP110 - 45 cavity 5" deep Tray
These are USED. USED products are not cleaned or sterilized. They may have media residue on them. Sold "As Is". Heavy weight plastic IPL Rigi-pots tray. Tray is 14" x 8.75" Cavity volume is 6.7 cu.in. 45 cavities per tray, 5" deep
View Product