D40H – 2.5 x 10″ Heavyweight Deepot Cell
---
Deepots are used for a wide range of native plants, hardwoods and other tree seedlings.  All are an excellent choice for plant material requiring a deep root ball.
Deepots allow seedlings to be spaced out or consolidated for sorting and maximizing growing density.
Deepot  heavy weight cell, made of post industry, pre-consumer recycled polypropylene plastic.
This Deepot cell is very rigid and is excellent for re-use.
Cells Per Tray:
D20T – 20
Scroll Down for More
Usage Description
---
D40H – 2.5 x 10″ Heavyweight Deepot Cell usage
Good for growing Milkweed and other plants for the benefit of Monarch Butterflies. Also used for cycad
Specifications
---
| | |
| --- | --- |
| Cells per case | 315 |
| Diameter (in.) | 2.5 |
| Depth (in.) | 10 |
| Volume Cu. (in.) | 40 |
| Volume ml | 656 |
What You May Need
---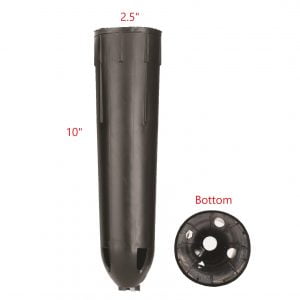 D40H - 2.5 x 10" Heavyweight Deepot Cell
Deepots are used for a wide range of native plants, hardwoods and other tree seedlings.  All are an excellent choice for plant material requiring a deep root ball. Deepots allow seedlings to be spaced out or consolidated for sorting and maximizing growing density. Deepot  heavy weight cell, made of post industry, pre-consumer recycled polypropylene plastic. This Deepot cell is very rigid and is excellent for re-use. Cells Per Tray: D20T - 20
View Product